Product Description - January 8, 2008

Garmin's nuvi 700 series brings two exciting new features multi-destination routing and, "Where am I?/Where's my car?" to its popular pocket-sized GPS navigator lineup. As with all nüvis, you get Garmin reliability, the fast satellite lock of an integrated high-sensitivity receiver, a slim, pocket-sized design with a gorgeous display, an easy, intuitive interface, and detailed NAVTEQ maps for the United States, Canada and Puerto Rico with more than 6 million name-searchable points of interest.
All of the Garmin nuvi 700-series navigators also feature a rich array of features including spoken directions in real street names, MP3 player and photo viewer, and an FM transmitter that will play voice prompts, MP3s, audio books, and more, directly through your vehicle's stereo system.The Garmin nuvi 760 and 770 add integrated traffic receivers and Bluetooth capability for hands-free calling. The Garmin nuvi 770 adds maps for Europe. The Garmin nuvi 780 adds enhanced MSN direct content capability..
New Features Where Am I? Where's My Car?
The Garmin nuvi 700 series is the first to answer two common questions: "Where am I?" and "Where's my car?"
At any time, with a single tap of the screen, drivers can display their exact latitude and longitude coordinates, the nearest address and intersection, and the closest hospitals, police stations and gas stations. And to help drivers find their car in an unfamiliar spot or vast parking lot, all Garmin nuvi 700s automatically mark the position in which they were last removed from the mount.
New Features Multi-Destination Routing
This lets you enter several spots into the device (day care, supermarket, cleaners, office, for example) and it will plot the fastest route. And once you've found the best router, the "Route Planning" feature lets you save up to 10 different routes, Garmin touts the feature for providing, "the most efficient route for errands, deliveries and sales calls." The feature also makes this an instant essential accessory for anyone who shops garage sales (you know what we're talking about).

A trip log provides an electronic bread crumb trail of up to 10,000 points, so you can see where you've been on the map.
See Better, See More
The super-bright, 4.3-inch (diagonal) touchscreen display gives is anti-glare for ease of viewing during the day and automatically changes its color profile for easy viewing at night or in dim light. It offers 2d or 3D perspective views.

The widescreen format gives you 70% more actual screen area than a 3.5-inch screen. Primarily this translates into a better view of the area through which you are driving. This is especially useful in showing you what parks, restaurants, ATM, gas stations, etc. are nearby, or in letting you know whether a detour is a good idea. Also, the device itself is larger, meaning controls on the screen are more widely spaced and somewhat easier to push.
First Rate Map Data
All Garmin nuvi 700s come preloaded with highly detailed City Navigator NT road maps for the entire United States, Canada, and Puerto Rico. This map database features nearly six million points of interest (POIs), including hotels, restaurants, gas stations, ATMs, and attractions. Garmin gets its map data from NAVTEQ, a world leader in premium-quality mapping.
Important note about map updates: Due to our high volume of sales, almost every Garmin portable GPS navigator sold by Amazon.com will come with the most recent map version. If you ever do need a map update, you can purchase one from Amazon.com.
Hands-Free Calling
In more and more places, it is becoming illegal to use cell phones while driving without a hands-free kit. WIth Bluetooth capability, microphone and speaker, you can match your nüvi to any bluetooth-capable phone to make hands-free mobile phone calls. Simply dial the phone number with the nuvi's touch screen keypad to make a call on a compatible phone. To answer an incoming call, just tap the screen and speak into the built-in microphone. Making and taking calls on the road has never been easier, or safer. In addition, Garmin makes it a breeze to look-up and dial numbers from your personalized phone book or even tap into your cell phone's call history log.
Garmin Nuvi 755T GPS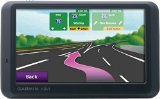 Garmin nuvi 755T 4.3-Inch Widescreen Portable GPS Navigator
Garmin Nuvi 755T
Bright 4.3-Inch Diagonal Touch Screen Color Display
480 X 272 Pixels, Wqvga Tft Display With White Backlight
Preloaded With City Navigator(R) North America Nt
High-Sensitivity GPS Receiver For Improved Performance & Reception
Poi Loader Program Allows User To Set Up Proximity Alerts For School Zones, Safety Cameras & Custom Pois
Model Nuvi 755T GPS
Average Customer Review:

45 Reviews
5 star:

(16)
4 star:

(15)
3 star:

(9)
2 star:

(4)
1 star:

(1)
4 out of 5 stars